Dr. Arthur Neuman
Biography
Gender

Male

Place of birth

Edge City (possibly)

Occupation
Portrayer(s)
First appearance
Dr. Arthur Neuman is a character from The Mask in 1994, The Mask: The Animated Series and Son of the Mask in 2005.
In the Cartoon TV series he is afraid of dogs, as they can sense and are aggravated by fear when Milo attack him.
Mask Persona
Edit
While wearing the Mask Dr. Neuman becomes a hyper exaggerated version of a therapist. Analyzing everyone he sees with aggressive fervor and trying to give Charlie a lobotomy.
Appearances
Edit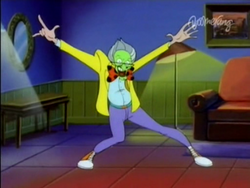 Ad blocker interference detected!
Wikia is a free-to-use site that makes money from advertising. We have a modified experience for viewers using ad blockers

Wikia is not accessible if you've made further modifications. Remove the custom ad blocker rule(s) and the page will load as expected.